10% Cash Back in Support of Spring Turnout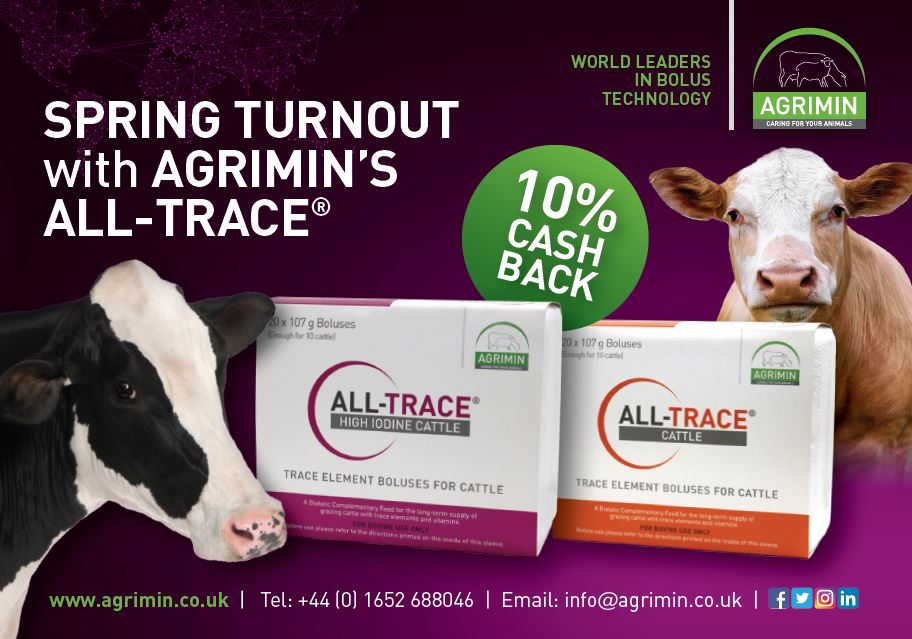 Agrimin Ltd. are pleased to announce that in support of farmers this spring 2021 turnout, we are offering a 10% cash back on our ALL-TRACE® CATTLE and ALL-TRACE® HIGH IODINE products. This offer is valid for purchases made between 8th February 2021 and 31st May 2021.
The OFFER CARD can be downloaded and printed from the ALL-TRACE® CATTLE and ALL-TRACE® HIGH IODINE product pages (click the links) and used at your local Agrimin stockists. 
Alternatively, contact Olivia Parkin for further information on [email protected] OR 01652 688 063.
FULL TERMS AND CONDITIONS OF THIS OFFER:
Offer period – purchases made between 8th February 2021 to 31st May 2021
Offer – Receive 10% cashback on ALL-TRACE® CATTLE or ALL-TRACE® HIGH IODINE when completed offer cards and copy of relevant invoice are returned to Agrimin Ltd.

Order any amount of either, or a combination of both to qualify.

Order as many times for the products outlined within the offer period to be eligible.

Your supplier is NOT responsible for applying this cashback to any orders.

To receive your 10% cashback, you need to:

Complete the offer card in full, and return along with a copy of the relevant sales invoice either by post or email to:
FAO Olivia Parkin,
Agrimin Ltd,
Arlanda Way,
Humberside Airport,
North Lincolnshire,
DN39 6YH
The claim must be made within 30 days of invoice date – last date for claims of purchases made on the 31st May 2021 is 30th June 2021.

Payment will be made by cheque in sterling/euros to the name specified.

Once eligible claims have been received, cheques will be processed at the end each month.